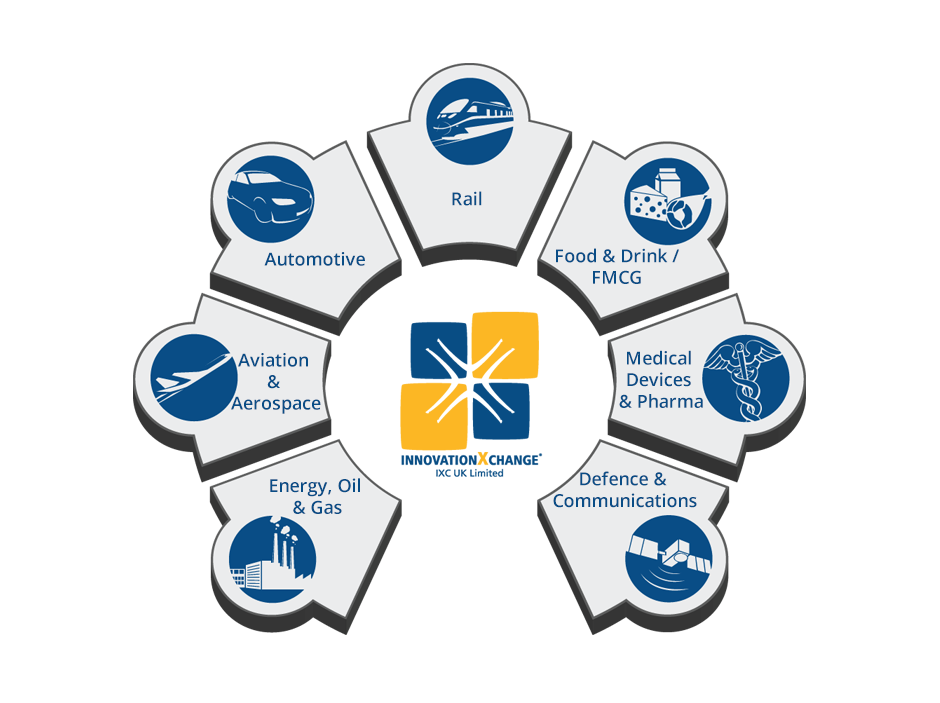 ---
Rail Industry
Encompassing trains, stations, infrastructure, freight, commuters, social and leisure passengers, regulatory planning, franchises, industry partners, and services – the Rail sector is, by its very nature, broad and varied. Whether addressing technological change, carbon reduction, routes, safety, economic growth, or enhancing the customer experience – innovation in the Rail sector is truly multi-faceted, and IXC helps with every step of the journey.
IXC has global and extensive understanding of the rail industry, its complex systems and the challenges and barriers to progressing innovation. This expertise arises from IXC's rail industry clients in the UK and overseas. This client base includes Network Rail, Bombardier, Thales, Halcrow Rail, The University of Birmingham Rail Research Group, Arup, United Rail, the Rail Strategy and Safety Board, the Enabling Innovation Team in rail (EIT), Department of Transport Victorian Government Australia, Nottingham University and Yarra Trams.
IXC's core competencies in cross system thinking, working across organisational boundaries, brokering partnerships to align costs, benefits and time horizons, are ideally placed to provide innovation structure & leadership for the rail sector. Through a whole systems approach, IXC facilitates rail clients in taking advantage of technical and technological developments to find more innovative and cost-effective ways to increase capacity and improve performance.
"Technical innovation through applying new technologies or changing processes can enable the railway to deliver increased capacity at reduced costs."

Tim O'Toole, Chair of the Rail Delivery Group
Case Studies
---
Automotive
Nestled in the heart of a region world famous for its rich motor car history, and in close proximity to the International Automotive Research Centre, IXC is naturally very active within the automotive sector.

With so many global brand key players vying for pole position, IXC's innovation consultants and engineers can support innovations in the challenges affecting the entire automotive sector, such as reducing carbon, lightweighting, fuel consumption, safety, and passenger experience, and develop truly cutting edge technology solutions outside your field of view, and that of your competitors.

Take a look at our automotive case studies to see how our innovation consultants can uncover previously hidden technologies, and how IXC utilises its expertise in open innovation to find and manage the ideal partners for supply, research or development.
"Innovation is massively important at JLR and everyone is encouraged to think creatively. This is shown in the line-up of cars we've had over the years. We're always looking to make cars and all of our processes more efficient, easier, and simpler. We do have other exciting innovative projects on the go at the moment, but these are closely kept secrets, so all I can say is you'll have to wait and see…"

Danella Bagnall, Senior Engineer, Jaguar Land Rover
Case Studies
---
Food & Drink / FMCG
Working with internationally known household names, IXC facilitates innovation within the food, drink and fast moving consumer goods (FMCG) industries. With both B2B and B2C clients, IXC's innovation consultants and creative technologists enhance innovation endeavours in diverse areas including new product development, packaging, process optimisation, emerging markets, and sourcing new suppliers and partners for open innovation.
Most organisations we work with already have innovation processes and champions in place. We work alongside our clients, as a flexible resource to fill the gaps in their networks, resources and knowledge.
Clients within this sector include those in confectionary, beverage, dairy and personal care industries, such as Cadbury, Mondelez, Kraft, Mars, Pepsico, Fonterra and Friesland Campina.
Case Studies
---
Medical Devices and Pharmaceuticals
As we live longer and lead ever more complex and demanding lives, medical devices and pharmaceuticals must evolve faster and more effectively than ever before. IXC's expertise in Medical Innovations supports precisely such development in life sciences, health and wellbeing. Be it diagnostics, prosthetics, implants, veterinary, complementary medicine, over the counter formulations tailored to niche markets, botanicals or more mainstream nutraceuticals, pharmaceuticals and beyond – IXC's innovation consultants can help.
Our innovation consultants' core expertise enables you to harness external innovative opportunities regardless of origin. Simultaneously, we support your teams in developing 'knowledge spillover' to build a 'corporate innovation memory.'
IXC can help you connect and collaborate in your innovation endeavours with Medical Innovations. Our flexible range of services allow you to succeed within the pharmaceutical and medical device sector, by virtue of our strong networks with healthcare trusts and university hospitals, as well as completely different industries.
"Access to progressive science and innovative drug candidates will be increased by using multiple approaches to increase the opportunities for harnessing external innovation, e.g. establishing early stage alliances, forming joint ventures or risk-sharing partnerships"

Measuring the Return from Pharmaceutical Innovation, Deloitte report
Read our pharmaceutical and medical device case studies to find out more. 
Case Studies
---
Aviation & Aerospace
The aviation and aerospace sectors are renowned for their technological expertise- yet these advancements are constantly being pushed higher and higher in the name of safety, comfort, efficiency, environment, and performance.

The variety of stakeholders in the aviation industry inevitably spans broad horizons, including manufacturers, mechanics, engineers, air traffic control professionals, operators, suppliers and passengers.
IXC are adept at bringing together diverse parties to achieve a common goal.

For innovation in aviation and aerospace, we support decision makers in staying powerfully ahead of the curve, through preparing for emerging technologies, creating partnerships, and seizing open innovation opportunities- for smart and connected skies.

Our aerospace and aviation-related client list includes BAE, Thales & Teer Coatings.
Read our aviation and aerospace case studies for more information.
Case Studies
---
Energy, Oil & Gas
Spurring innovation in the energy sector involves whole systems thinking encompassing energy sources, infrastructure, utilities providers, power production fluctuations, consumption, efficiency and storage.
The energy sector is highly conducive to generating technological breakthroughs that affect the lives of millions. From sensors, to renewables, to leveraging data, IXC's innovation consultants and engineers can help you drive innovations in smart and connected energy solutions.
The energy industry is, without a doubt, capital intensive. As a result, traditional big corporates in this sector may choose to become involved with an innovation partner in clean energy for example, or an R&D intense partner. IXC's expertise in brokering partnerships- public, private, and academic- can assist in such diversification; we find the ideal partner, and manage the introduction and associated expectations.
Also, due to exposure to Government funding and regulations- particularly relating to emissions, climate change and the creation of a low carbon economy- IXC's services, including Technology Watch and Road Mapping Visualisation, are ideally placed for innovation within energy.
Examples of some of IXC's clients within the energy sector include EDF and E.ON.
"The pace of change could be unprecedented. To succeed, companies must understand the major performance thresholds for each technology and the market shifts that breakthroughs will trigger. Those that are content merely to keep an eye on technological developments, betting on averages rather than positioning themselves to benefit from the cutting edge, may fail to survive in the new world these innovations create."

Matt Rogers, McKinsey Energy=Innovation Report
---
Defence & Communications
Both the Defence and Communication industries are continuously pushing the boundaries of science and engineering techniques. The fusing of cutting-edge technologies is increasingly essential for the sector as a whole, in implementing a successful, combined science and innovation strategy.
It is critical for businesses to ensure they have the right mechanisms, processes and resources in place that will harvest the best ideas from a diverse technology base. For Innovation in Defence and Communications, IXC supports decision makers in staying powerfully ahead of the curve. Our specialist Innovation Consultants combine industry expertise with innovative strategy to help your business prepare for emerging technologies, create new partnerships and seize open innovation opportunities.
Stakeholders range from multinational defence contractors and telecommunication suppliers to small, bespoke suppliers, developing the next generation software or equipment that will allow the large providers to maintain their instable demand for new ideas and technology.
We have helped to introduce specialist Innovation structures within the Defence and Communication sector, for many clients, including BAE, Thales and Telsey Communications.
---
Advanced Materials
The advanced materials sector encompasses all the industries IXC work with in innovation consultancy; it truly is ubiquitous. IXC's innovation consultants, creative technologists and engineers work with our clients to source and develop the perfect materials for their applications.
Innovation in advanced materials covers a remarkable array of specialty existing and novel composites, polymers, ceramics, nanomaterials, and biomimetics. Our innovation consultants help you source materials with the special properties you need- structural, intelligence, durability and beyond.
Read our case studies to find out about IXC's work with advanced materials.
Case Studies
---
Retail
Sophisticated digital technology and creative innovations continue to rewrite the path for traditional Retailers, causing significant effect on the industry. Such is the necessity for Retailers to introduce change to many of their increasingly out-dated ways of working and adapt to the growing innovation-minded customer demand.
Our Innovation Specialists at IXC have an extensive knowledge base of the broad Retail sector, combined with expertise in highlighting unique challenges and opportunities that arise within the industry environment. Based in the thriving retail hub of Birmingham, we enhance innovation endeavours, by providing focussed exposure to new technology and expert-led innovative practices, tailored to suit unique organisational ambitions.
Innovation in retail is now providing enormous possibilities, as technology continues to evolve. Stroll the streets of New York from the comfort of your sofa or test out a brand new car without even getting it onto the road. Technology now makes these exciting activities possible, continually pushing customer expectations and future developments. See some of the key innovation trends that have emerged in recent years:
Payment (digital wallets, mobile payments, tweetpay, wearable, scan & go, prepay app)
Voice operated shopping apps
Facial recognition
Digital Signage
Augmented Reality (Packaging, Trying on clothing in fitting rooms, virtual space designs)
Wearable technology
Drones
Loyalty programmes
One of the main factors for introducing innovation in the retail sector is to make the overall shopping experience an enjoyable one – whether this happens by speeding up payment, decreasing queues, providing a more relaxed retail environment or introducing a new way to shop. Innovation can create a unique retail experience that engages the customer in an unforgettable way.