The bond between owners and their pets is renowned for being strong; with the human effectively 100% responsible for the well-being of their furry, feathered companions. When things go wrong, or simply in need of routine maintenance, pet owners can really feel the pressure.
So imagine having everything you need appear on your doorstep; not just a fully qualified veterinary surgeon and nurse, but every service from routine worming and fleaing, all the way to full operations.
Innovate by meeting the unmet customer needs
Having understood the needs of their Isle of Wight community, this is exactly what The Mobile Vet offer. Husband and wife team, Dan and Kirsty Forster (veterinary surgeon and veterinary nurse, respectively), offer a truly customer-centric business model by:
covering the entire island
arranging visits to suit the customer's schedule
charging reduced fees for mobile visits
delivering medication
and performing the consultation and routine services in the comfort of the owners' homes- surroundings which are of course nice and familiar to the pet.
This approach is particularly suited to emergency call-outs, anxious animals, multi-pet households, and people unable to travel.
However, the vets themselves also benefit by being able to assess and work with animals that are far more relaxed than if they'd been caged in a pet carrier, then transported to the vets, and sat in the waiting room surrounded by a veritable Noah's ark of different species- all very stressed themselves.

What is the innovation?
But haven't vets always done home visits- what is innovative about this?
Firstly, the standard business model is to charge customers more for home visits- after all, the vet has to travel away from the practice, and can only take the essentials with them. The Mobile Vet flips this on its head by charging less for home visits, and takes the veterinary practice to the pet.
Designed from scratch by its founders, the vet surgery on wheels incorporates everything expected for an operating theatre, from anaesthetic machine, monitoring equipment (blood pressure, pulse, etc), surgical tools, post-surgery heated kennels, laboratory analysis equipment, microscope, dental polish & scaler, onboard pharmacy, and walk-on scales (which could easily measure the weight of more than two Great Danes if so required!).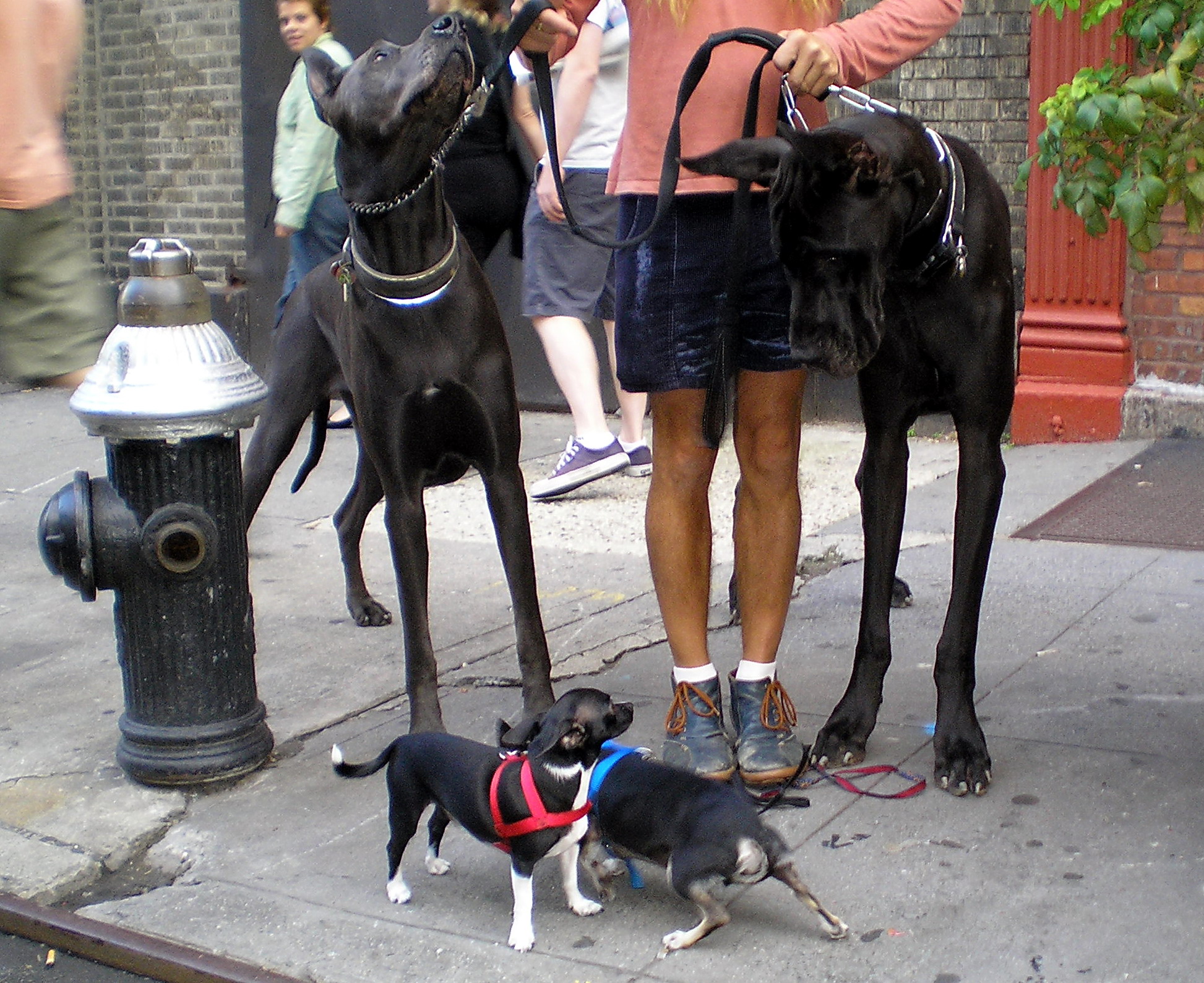 The mobile vet's scales could weigh the combined weight of these dogs! Great Danes and Chihuahuas by David Shankbone
For connectivity, the full internet access and cloud-based veterinary software allow rapid, accurate access to patient records, and a mobile card machine to take payments. Power comes from the patient's home, but a backup generator is also available.
The founder explains how this service provision is a true first:
"The concept of a mobile vet that provides ALL the services a traditional vet does is brand new to the UK. There are several vets that drive around providing basic in house services, but the Mobile Vet is something else entirely. The idea certainly seems to be a great way to encompass convenience with a traditional twist whilst maintaining the highest veterinary standards with state of the art equipment contained within a mobile unit!" Dr Dan Forster, MD, founder, head veterinary surgeon.
Innovation Rewarded
By identifying a gap in the market, meeting a true customer need, and overcoming numerous challenges to comply with necessary regulations, Mobile Vet's demonstrable innovation has now, quite rightly, been rewarded with a Queen's Award for Enterprise in Innovation.
For more Queen's Award for Enterprise in Innovation winners, read about:
Darktrace's Cyber 'Immune System'
Historic Buildings' Invisible Access
Preclinical Imaging Innovation
For further information on how our innovation consultants can develop your innovation strategy and help you connect and collaborate, please contact our team on: 0121 250 5717 or email: [email protected].