Preclinical Imaging Innovation
Preclinical magnetic resonance imaging can be used by scientific and medical researchers to observe changes in organs, tissues and cells.
Challenges in scientific technology
The powerful magnets which operate the scanners require cooling to -269 degrees centigrade to achieve superconductivity.   Traditionally, this massive temperature drop can be achieved by immersing the magnet in liquid helium.  This is cumbersome, expensive and hazardous.

Innovation in biological imaging
However, a novel magnet design partnered with a readily available cryo-cooler unit created a world first compact and convenient benchtop MRI scanner.  Now streamlined to a weight of 350kg, as opposed to several tonnes, it is portable enough to be wheeled into the lab, and therefore unlike traditional scanners it does not require building modification or a special dedicated metal-lined room.  The scanners are offered in a range of magnet powers from 3 Tesla to 9 Tesla.
Due to a built-in Faraday cage it can also be situated next to other sensitive laboratory equipment as the potential for stray magnetic field is reduced from metres to centimetres.   Ultimately, it not only simplifies logistics and installation, but also circumvents the scientific community's concern with helium supply.

Award-winning innovation
This innovative approach was developed by Surrey-based imaging company MR Solutions.  They received royal approval for this development of the world's first commercial range of cryogen-free preclinical MRI scanners, which do not require liquid helium cooling.  The Queen's Award for Enterprise in Innovation is MR Solutions' first Queen's Award, and accompanies a suite of accolades for the imaging specialists including R&D 100, Made in the South East, and SME Surrey Business Awards.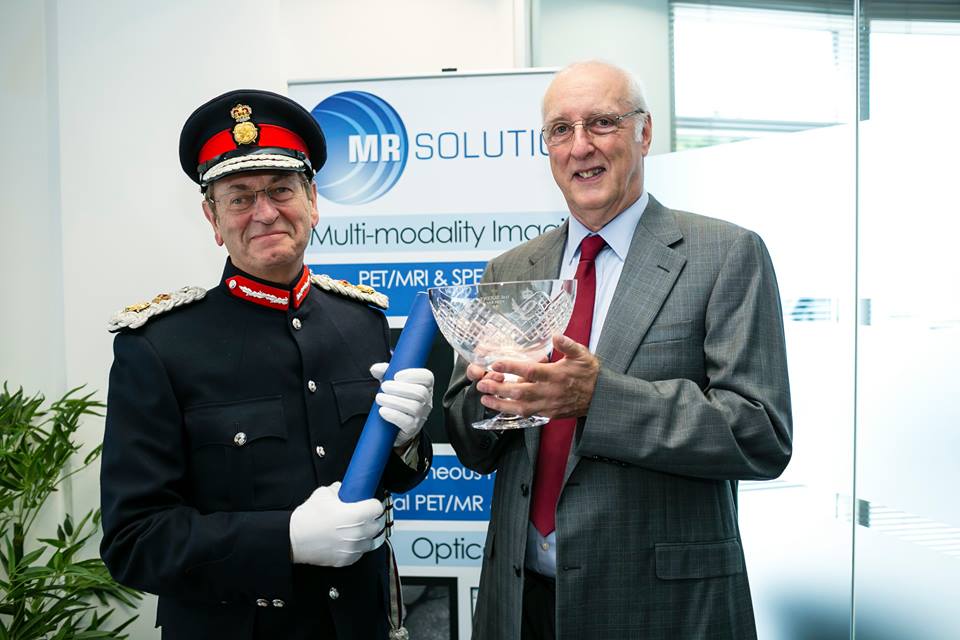 Always continue to innovate
The Queen's Award for Enterprise is valid for five years, yet this does not cause complacency at MR Solutions.  Nicky Doughty, Director said:
"While we still remain the only company to have an installed range of cryogen free scanners, we continue to innovate by planning for even more powerful cryogen free scanners and incorporating both PET and SPECT into our new multi-modality systems, dispensing with the need for separate systems."
MR Solutions award is justly deserved.  Not only have they have reduced the costs of equipment and room adaptations- they have also transformed for the better the way pre-clinical university and industry researchers can work with greater imaging ability.
For more Queen's Award for Enterprise in Innovation winners, read about:
The Mobile Vet
Darktrace's Cyber Immune System
Invisible Access to Historic Buildings
For further information on how our innovation consultants can develop your innovation strategy and help you connect and collaborate, please contact our team on: 0121 250 5717 or email: [email protected].
Images courtesy of MR Solutions