The Digitalisation of Beauty
Makeup and its application can be considered a true art form.
The appreciation of colours and their palettes…
The layering, contouring, highlighting, defining, brushing, and blending of myriad pigments, reflectors and highlighters….
There must be an eye for accentuating desired features, and the skill to minimise or distract away from blemishes, dull skin, brittle hair, or dark circles….
… A makeup artist or beautician demonstrates great skill in their appreciation of aesthetics and their manipulation and application of materials and light.
Digitising beauty
How then does the world of beauty and cosmetics sit with the more intangible, less concrete realms of the Digital Economy- i.e. the transformational impact of digital technologies on cultural experiences, future society and the economy?
The health and beauty sector has already successfully harnessed digital strategies for business processes such as market research, advertising, and customer service:
social listening and beauty vlogger ambassadors are invaluable channels for keeping a finger on the pulse of ever-changing micro-trends.
Crossing the analogue / digital divide
But what about the actual beauty and healthcare regimes themselves?
That creative, messy world of colours, lotions and potions.
How can you smell perfume or try on lipstick digitally?
Well, the posterchild of the intersection where beauty meets digital could be L'Oréal's MakeUp Genius app launched in 2014 from a partnership with Augmented Reality company Image Metrics. Working as a digital mirror, the image tracking technology maps multiple facial points via the smartphone camera and allows virtual makeup to be applied in real-time on your face flawlessly.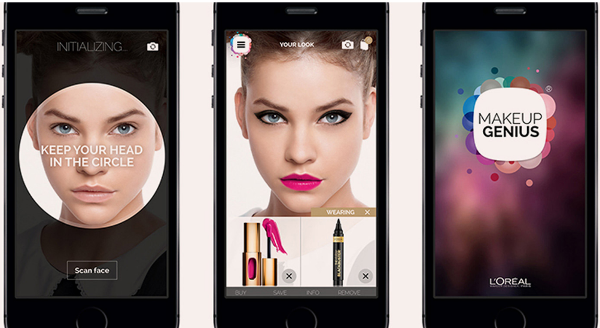 Similarly, Modiface is a private-label collective of engineers and innovators also providing advanced facial mapping AR-tech. They have collaborated with beauty giant Sephora to create their augmented reality app 'Sephora Virtual Artist', and also work with Estée Lauder, Bobbi Brown and other major beauty brands for realistic AR 'try-on' technology.
Most recent of all- available this December 2017- Estée Lauder are collaborating with Google to allow consumers to 'talk' with their Nighttime Expert app thanks to voice activation of Google Assistant on Google Home; in turn receiving personalised skin care routines.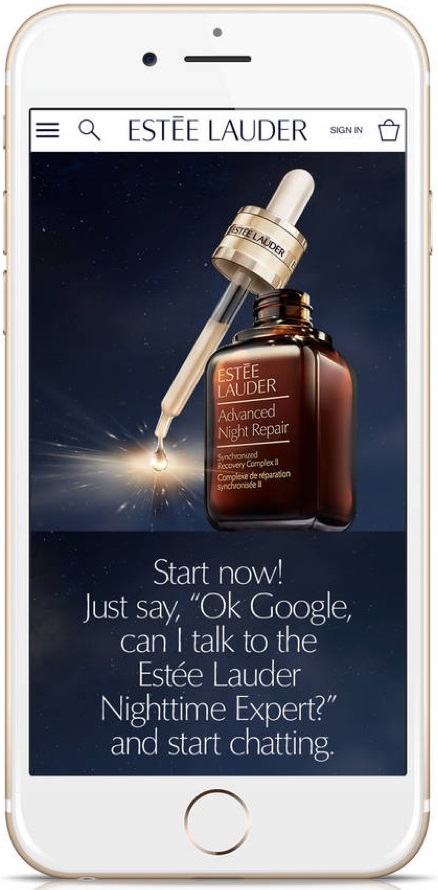 Beauty's place in the Internet of Things
L'Oreal's chief digital officer envisaged such technology integrated into bathroom mirrors, giving access to everyday coaching and advice from beauty professionals in our own homes.
We are already seeing elements of this with appearances of Panasonic's Smart Mirror, and the launch of the HiMirror. The HiMirror is available to buy, and scans the face to rate skin perfection by tracking wrinkles, red spots, pores, fine lines and brightness. This helps monitor skincare transformation performance and product success- i.e. is that latest product actually improving your skin? You can also watch makeup tutorials and apply virtual makeup to test out looks.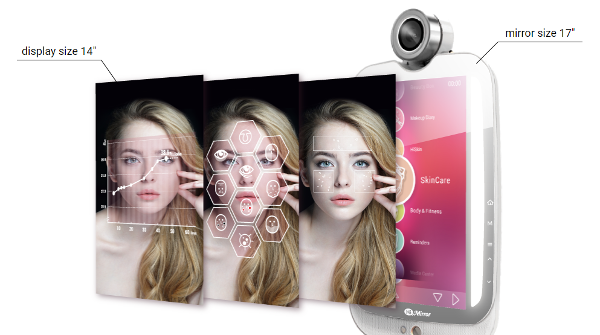 Smart skincare
Samsung also measures hydration, redness and melanin of the skin but with its smart skincare device 'S-Skin'. This transmits data to the smartphone for appropriate microneedle plaster selection. The microneedle patch then applied can deeply penetrate the skin to effectively deliver the active ingredients needed to treat the skin problem.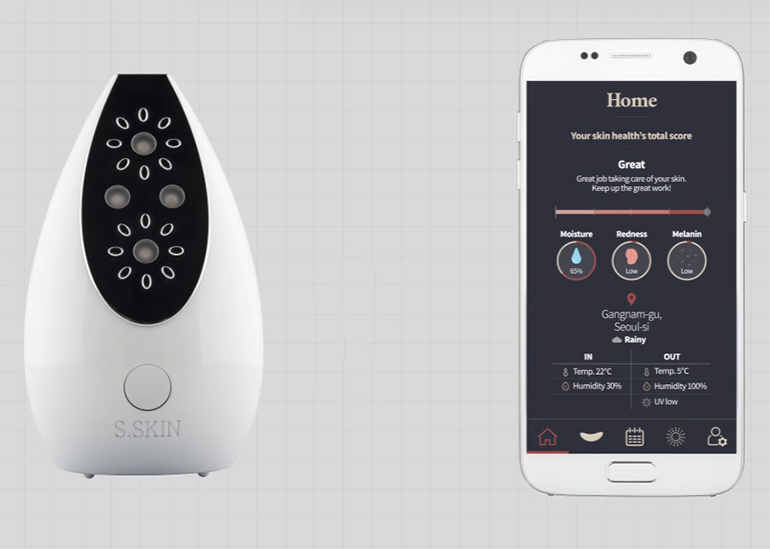 Samsung's 'Lumini' analyses photos to identify skin problems before they occur such as freckles, increased pores, redness and sebum. This information is sent to the smartphone app which recommends suitable products and/or remote consulting with a dermatologist.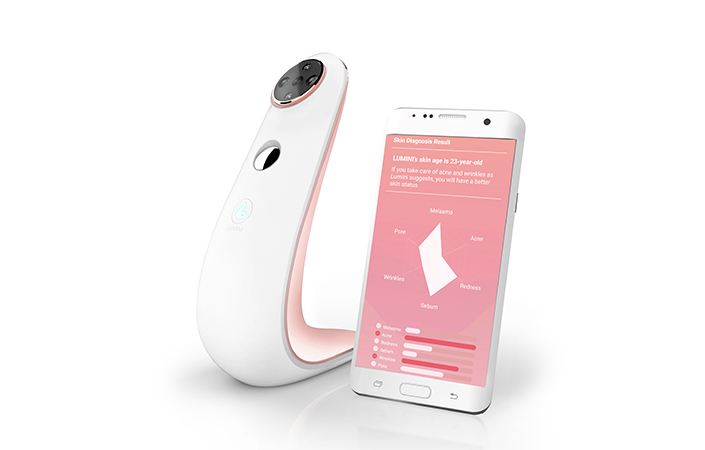 But it's not just Samsung; Johnson & Johnson are very active in the smart skincare arena also. They are currently "seeking innovative devices and digital technology solutions to make the invisible visible and tackle the toughest skincare challenges." J&J are doing this with a crowdsourcing competition (The Digital Beauty Quickfire Challenge) for start-ups focused on tackling skin health issues with digital solutions.
Skincare wearables
It is universally acknowledged that skin health is negatively affected by UV radiation.
L'Oréal wearable UV patch technology- launched in 2016- is a stretchable, adhesive, ultra-thin electronic sensor for monitoring exposure to harmful sun rays with a view to encouraging consumption of its La Roche-Posay sun care range. 'My UV Patch' is a heart shaped waterproof sensor of 2.5cm2 area and 50 micrometre thickness which can be applied to the back of the hand for up to five days. The sensor contains a photosensitive blue dye ('dosimeter') which changes colour when exposed to ultraviolet light and is linked to an app which measures both instant and cumulative exposure over hours and days.

This has now been superceded with the launch of L'Oreal's 'UV Sense'- a small design worn on the nail, and launched at CES 2018.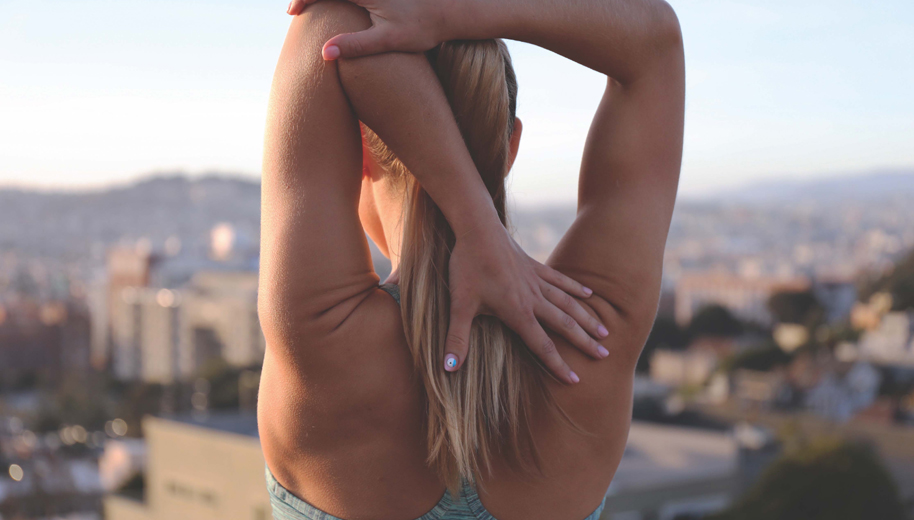 Smart hair
What could be the world's most technologically advanced hairbrush was launched in January 2017 ('Kerastase Hair Coach powered by Withings'). It identifies manageability, frizziness, dryness, split ends and breakage via listening to noise patterns from a microphone, and warns user of over-brushing via an accelerometer, gyroscope and conductivity sensors. The data is sent to a smartphone app for personalised care tips and Kerastase product recommendations.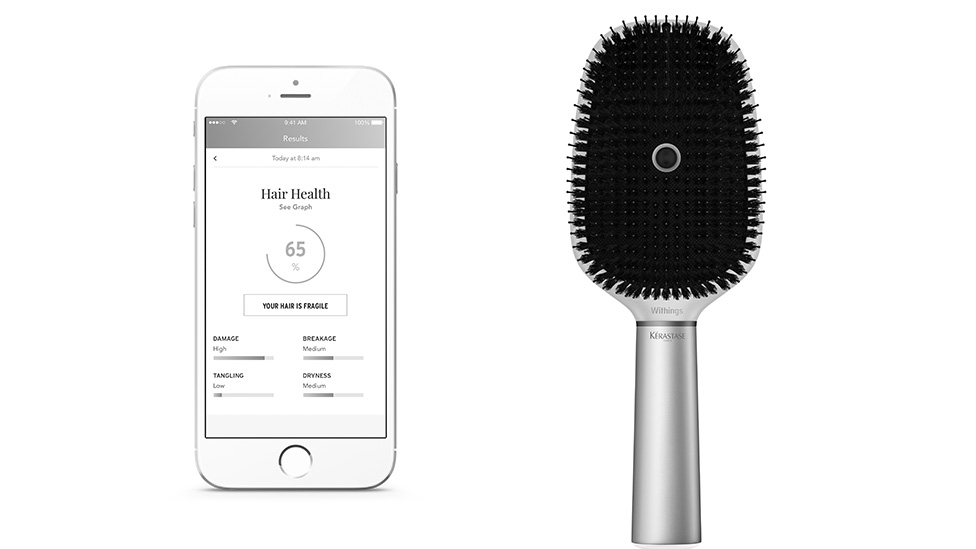 Digital revolution in beauty
As Jean-Paul Agon, L'Oreal CEO said: "We're very lucky because digital and beauty are the perfect match. Our industry is the one benefiting most from this new digital era, because beauty is one of the favourite topics of internet users. And beauty is one of the fastest-growing categories in e-commerce.
The digital revolution is completely reinventing and redefining the rules of the game in the beauty industry, as it is in all sectors."
If you have a beauty or personal care innovation or idea, take a look at our Innovation Portal, where pharmacy-led health and beauty retailer Boots UK is looking to connect with inventors.
To find out how you can implement an Innovation Portal within your business, please contact our team on: 0121 250 5717 or email: [email protected].
InnovationXchange® | IXC UK® | Open Innovation | Innovation Champion Training | Innovation Intermediaries | Innovation Audits | Technology Scouting | Technology Watch | Roadmapping Visualisation | Crowdsourcing | Innovation Consultants