With the showcase for rail technology innovation – Railtex 2015- taking place near IXC HQ next week, we take a look at innovation and the rail industry.

What is Innovation?
Generally, the term 'innovation' refers to doing something new. Specifically, in an industrial context- such as rail, for example- it can be a managed process to generate new value; the successful exploitation of new ideas to produce functional commercial products, processes and services.
Why Innovate?
Organisations focus on innovation so that they can:
Survive & thrive
Increase revenue
Achieve and sustain competitive advantage
Predict & adapt to customer expectation
Attract & access new markets
UK rail has the vision of being a dynamic industry that innovates to achieve such benefits. The scope for innovation in rail is immense- targets can include, but are in no ways limited to:
Fuel
Stations
Track design & infrastructure
Ticketing & payments
Connectivity
User experience
Multi-modal, integrated journeys
Information, journey planning, timetabling
Signalling, positioning
Freight processes
Supply chain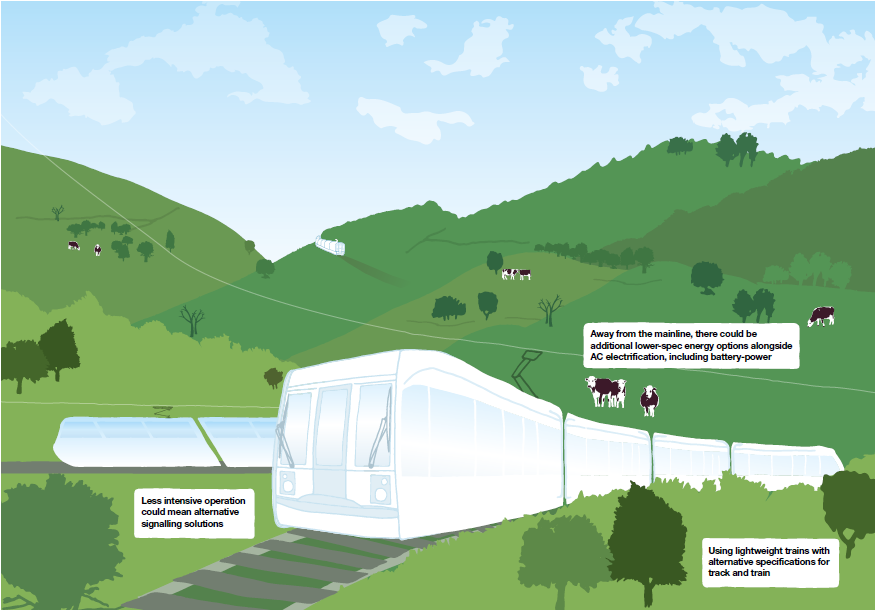 With passenger numbers at their highest in over 100 years (latest 2013-14 figures show 1.6 billion passenger journeys), combined with increased freight volumes, there is a real renaissance in rail.
In response, the rail industry is demonstrating commitment to enabling a persistent innovative culture. This is evidenced by continuing investment in rail and significant ongoing projects, including a rail specific innovation group (FutureRailway), a Rail Innovation Fund, and the Unlocking Innovation Program, as well as tapping in to the expertise of Open Innovation experts such as the InnovationXchange® (IXC UK).
"Railway companies recognize that catering for the burgeoning growth in demand for our services within the physical and economic constraints we face in Britain requires new and innovative ways to deliver what our customers want."
– Tim O'Toole, Chair Rail Delivery Group
What is Open Innovation?
Open Innovation as a practice aims to share the risks and benefits of introducing new products, processes and services into an unproven market.
Open Innovation can be, and is, applied to any sector- with the richest results invariably coming from cross-sector collaborations. The rail industry can be considered particularly amenable to open innovation by the very nature of its multi-stakeholder structure, and events such as Railtex can increase the likelihood of such collaborations taking place.
How is Open Innovation applied?
A number of different approaches can be taken:
Such approaches embed innovation within the rail industry. IXC, for example, has introduced technologies and knowledge from outside of rail, including emergency vehicle communications, vertical transportation, and adhesive measuring technology.
More generally, non-rail organisations can be a rich source of solutions: for example, the future of tickets, train signalling & positioning, powertrains, and customer experience; and IXC- with the rail industry's innovation accelerator FutureRailway- has been very active in promoting such cross-sector collaborations.
Incorporating these novel innovations into rail has enabled access to or creation of new markets, improved internal processes, and better engagement with customers.
Embedding innovation is also about culture, and IXC support the rail industry by overcoming inhibitors of innovation, and facilitating effective collaborations to deliver the railway our future demands. As such, IXC are the trusted innovation partner for Network Rail, RSSB, FutureRailway, The Rail Alliance , and Tier 1 rail manufacturers.

IXC will be attending Railtex on the 12-14th May at the National Exhibition Centre in Birmingham, UK with rail industry leaders from all parts of the supply chain, from large train manufacturers to small scale engineering and technology companies. Speakers this year include the Chairman of Network Rail, the UK President of Alstom, and the Managing Director of South West Railway. The previous Railtex event had over 400 exhibitors and 8,000 visitors from 49 countries.
Related Reading
IXC UK Ltd – Innovation Intermediary Services since 2003